Awarded the B&T PR Agency of the Year title in 2019, Aruga is a fierce leader in the world of public relations and marketing communications. The Newish PR and Socials team are honoured to have the thriving team behind the agency as our industry mentors, teaching us everything from project scoping and media release writing, all the way to digital strategy development.
After many amazing weeks of mentorship, the team at Aruga decided to take teaching to a whole new level, offering each student within the Newish PR and Socials team a short term internship with the agency at their headquarters in West End. Stepping outside of the classroom and straight into the industry was such a valuable learning experience for our students, and a fantastic opportunity to kickstart our careers in the world of PR and marketing.
Here's what we had to say about our time at Aruga.
Julia Crosswell: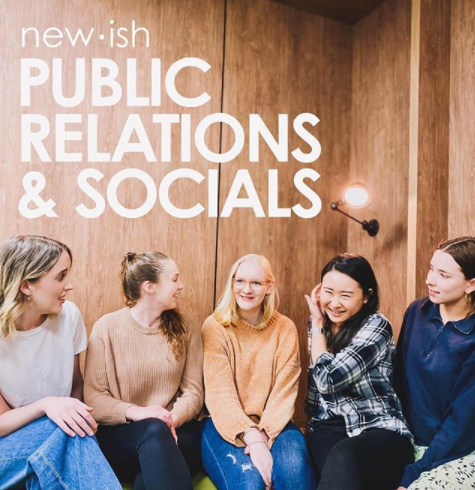 "I have absolutely loved my intern experience at Aruga. From content creation and scheduling to end of campaign reporting and research, I have learnt so many invaluable skills that will undoubtedly help me as I continue my career in the PR and Marketing industry. I am so thankful to the incredible team at Aruga who have been so patient and kind, and have taught me so much throughout my internship."
Nozomi Yamazaki:
"From interning at Aruga I learnt what agency life was like and how it worked! As it was my first time interning at a PR agency, it was interesting to see the structure. I also loved that they had such diverse list of clients from cafes and fashion brands to festivals. That is one of the best things about an agency – you get to work with clients from a field you had no knowledge in, but will make you an expert in the end!"
Tayla Harvey:
"My experience interning at Aruga was absolutely incredible. Every day was exciting and new – you could be behind the scenes of a photoshoot one minute, and drafting social content the next! The internship has given me new insight into the industry, opening my eyes further to the world of PR. It was a privilege to learn from such a successful agency, thank you to Newish and Aruga both for making this amazing opportunity possible!"
Alexandra Stanilewicz:
"Getting the opportunity to intern at Aruga was an amazing experience. The Aruga team were extremely welcoming and assisted hugely in my understanding of the workings behind agency life. Working with clients across such a variety of industries has truly confirmed why I love PR and marketing communications. We have all been so lucky to have this support from such a highly-regarded agency and team at Aruga!"
Wai Yin Stephanie Chu:
"Working for Aruga has been one of the most exciting things I've done in Brisbane so far! It was my first internship in my international student journey, and I enjoyed working there with such active and easygoing people. Throughout my time, I worked with social media posts and other events sourcing. From my internship, I have not only learned skills in PR strategy and social media, but I also have a better picture of my work prospects. Working with Aruga has marked the first step of my career journey in Australia, and I can't wait for more adventures ahead!"
The Newish PR and Socials Team are extremely grateful for the guidance and experience Aruga has given us over the past few months, and we look forward to collaborating more with this incredible agency in the future.
A massive congratulations is also in order for Aruga's achievement in making the shortlist of the B&T 2020 Awards – we wish the talented team the very best of luck!