Yesterday we celebrated International Women's Day, an annual day that is dedicated to celebrating the special women in our lives and those we look up to for their incredible contributions to society.
In honour of this empowering day, we would love to bring attention to some of the amazing women in our agency that constantly inspire us as they work hard towards their careers!
Tayla
Tayla is the Newish Team's amazing copywriter, and she has produced so many well-written and fascinating blogs. She is in the fourth year of her Bachelor of Communications and Arts degree. Tayla has had great success in her role as the Marketing Vice-President in the UQ Journalism and Communication Society as well as doing freelance writing for Urban List.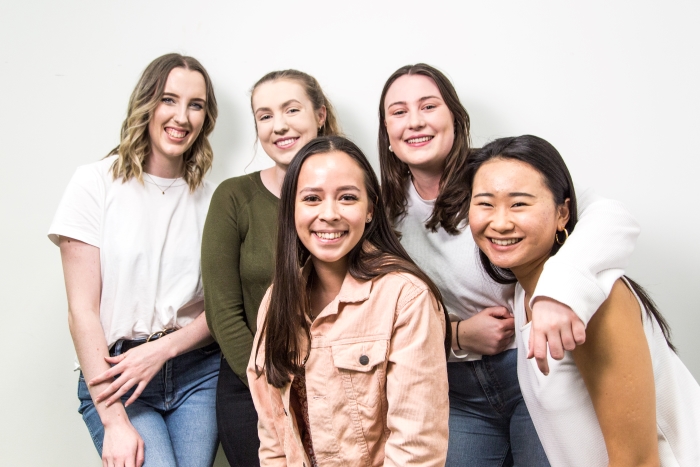 "Who is someone who inspires you to be your best?"
"Between my career and my personal life, I always take inspiration from everyone around me, but the people who inspire me to be my best everyday definitely have to be my family. I have learnt so many valuable lessons from them, and I try to pay that forward in everything I do by not taking any opportunity for granted."
Allie
Allie is the Director of Public Relations and Socials within our agency. Allie is in the fourth year of her Business Management and Communications double degree. One of her greatest achievements, which was possible with the support of Newish Communications, was placing as a finalist in the national IAA Big Idea Competition alongside her team.
"How do you motivate yourself to work hard at pursuing your career?"
"I have been so inspired by joining societies, and reaching out to my peers beyond lectures and tutorials. Being given the opportunity to attend networking events and make industry connections has motivated me to work harder and smarter. Finding like-minded students that I can collaborate and connect with now, and in the future has been invaluable to my career."
Nozomi
Nozomi has been a significant member of Newish Communications since it was founded and her contribution to the agency has resulted in great growth! Nozomi is in her fourth year of her Business Management and Communications double degree. She's worked hard to complete multiple internships alongside her study, proving that anything is possible with a great mindset.
"What is something you wish you could tell your younger self?"
"One thing I would tell my younger self is to never compare yourself to anyone else. I tend to still do that sometimes when my life is not put together, however, I have learnt that we are all part of a different path and our life is meant to be different. What is meant to be is meant to be and everything will end up being okay at the end of the day. Essentially I would tell myself to take a chill pill and let life take you where it's got plans."
Annie
Annie is another member of Newish who has been around since the very beginning. She is in her fifth year of her Business Management and Arts double degree. Annie took on the role as the first Managing Director for Newish Communications, which saw her take on great responsibility for the agency's growth and maintenance.
"What is a small piece of advice you'd like to pass on to other women?"
"Don't let fear of failure stop you from pursuing new opportunities. Be your own biggest supporter and trust that you are strong and capable."
Isabelle
Isabelle is Newish's creative director and an avid design competition participator. She is in her fourth year of Business Management and Arts double degree. Isabelle has entered and placed in the IAA Big Idea Competition with her team and also in the D&AD New Blood Award.
"What is something you have learnt from other women around you?"
"Something I've learnt from the women around me is that everything is better when you work together. Not only is the outcome more successful and diverse, but even the whole process is more enjoyable as well. More specifically my team's mentor, Jessamy, always gives us such useful advice, which means so much coming from a very successful woman in the industry that we are aspiring towards."
From the whole Newish team, we sincerely hope your International Women's Day was special and that you remember to celebrate the achievements of the significant women in your life, as well as your own achievements, every day of the year.