You're 13, in your bedroom and you decide to post a photo you took because it looked nice. You scroll through the Instagram filters to see what feels best for you — Mayfair, Amaro, Willow… There could be many reasons to post that photo: "I looked great that day!", "The sunset was amazing" or "The food was spectacular". Looking back, I always had a desire to express my creative vision.
I definitely started off in that route. It was me, my phone and a pretty background. My Instagram was dedicated to presenting the world how I see it. Grainy film photos that brought out the aesthetically pleasing colours of the environment, or highlight the outfit I was wearing. But even in my early days, I knew I had a grand creative vision that I wanted to achieve. I had always viewed influencers like Jordan O' Brian and Daniel Simmons to be inspirations because they had this unique visual identity when presenting themselves in a photo.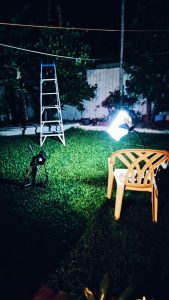 It was there that I really started to hone in on my creative skills. I started using my backyard and at-home tools to realize this vision. The photo you see here now used a chair, a lamp and baking paper to achieve this night shot. On top of that, a mixture of editing programs and YouTube were used to bring out the specific look I wanted for this shoot. I even created strategies for the different ways to spread my content (i.e. Tik Toks and Instagram stories).
Being creative requires being resourceful with the tools you have at your disposal, but sometimes, it can be hard just doing the simple act of coming up with an idea. "What should I do now? I can't just stand in front of the same background and use the same filters.". When I run into problems like this, I look to other media to gain inspiration. It can be a simple scroll through Instagram, watching my favourite music videos or just listening to one of my many Spotify playlists. Inspiration always strikes when I look at other people's work.
Throughout the process of developing my creative vision, it has luckily led me to Newish. My role as a Creative Specialist requires me to answer the question I've been given, but the path to getting there is always different. Self-producing my photoshoots has helped me rework the way I approach creative tasks. What I've learnt is that the simple act of producing my own content is the simplest way to exercise creativity. Now that I am at Newish, I have made the first few steps to a long journey of working in the creative industry.
---
To follow Cris' creative journey, be sure to follow his Instagram page – @crisbonq!
With a whole team of talented creatives as well as a passionate production team here at Newish, we have helped make many brands' vision come to life. Check out some of the projects we have worked on so far here!
View this post on Instagram