Every weekend, Brisbane's cafes become the meeting place for friends, family, foodies, and the occasional snap-happy influencers. It is undeniable that Australia has a unique cafe culture in which we are obsessed with finding cafes that offer something special, something new. Whether that be a colourful coffee or a cruffin, it leads us to ask: what makes some cafes "Insta-Worthy"?
Instagram. Instagram. Instagram. Why is it Important?
I'm not the first to admit that stalking a cafe's Instagram pre-brunch has become habitual, as young Australians look to social media to inform their decisions. Scrolling through Instagram, we ask: what does the food look like? Is there comfortable seating? Can we bring our dogs (extra points for puppychinos)?
Cafes that do well use their platforms to provide confidence in the experience customers can expect. Ultimately, Instagram has become a powerful marketing tool for businesses that is beneficial for creating a strong brand.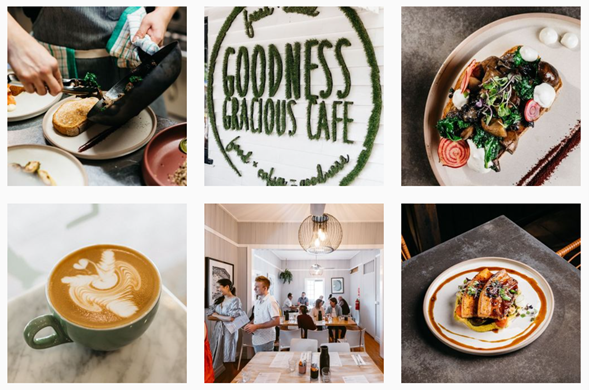 Goodness Gracious Cafe
Unique Branding Strategies
Branding strategy is important in guiding customers about how they should feel towards the brand.  Cafes that incorporate branding elements into their Instagram will have an advantage over others, as the brand will be much more identifiable to customers. Not only are customers paying for their morning coffee, they're paying for a brand.
Turning Heads with Stunt Foods
Instagram should be used by cafes to highlight menu items that differentiate them from their competitors. Whether it be a rainbow coffee or a Frankenstein pastry, they need to provide a unique value proposition. Intensifying competition to grab the attention of customers
Instagram Grids with Personality
The style and layout of a cafe's Instagram grid is important as it communicates personality and sets expectations about the experience the cafe provides. For example, what do we notice about this cafe's Instagram grid?
Goodness Gracious communicates a casual-chic experience with earthy flavours and local produce.
This is very different to the second grid shown below, Piggy Back Cafe, which exudes a playful personality with colourful and vibrant foods – perfect to excite the kids.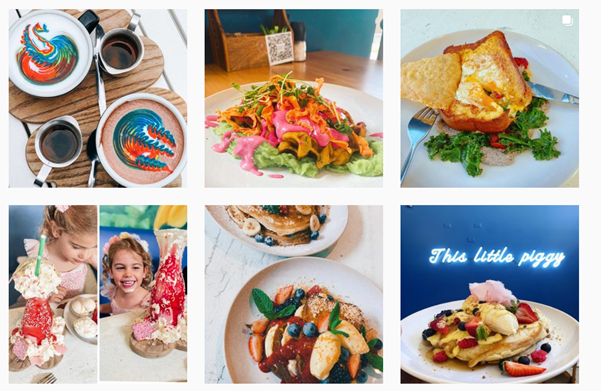 Piggy Back Cafe
has amounted to a marketing strategy dubbed "stunt foods", which are characterised as overindulgent, colourful, or fantastical foods that aim to make businesses stand out from the crowd. Stunt foods often go viral online due to the sharable nature of such overly indulgent foods. Popular restaurant @Milky Lane takes this marketing strategy to the extreme and has created an entire franchise around embracing stunt foods, freak shakes and all.
Exciting Servicescapes
Servicescapes are the environment in which services are provided, where a customer interacts with the business. They are an important factor in customer experience as the service environment shapes customer perception of the experience itself.  Cafes that create spaces that are visually exciting are likely to find themselves shared on Instagram amongst people searching for an experience that is unique. See @Superthing Bakery for inspiration!
Co-Creating Value with Customers
There now exists a service ecosystem in which customers and cafes exchange and co-create value for each other. When a customer has a positive experience and posts about their morning coffee, they not only receive the value of their coffee, but create value for the cafe in the form of free advertisement. These customers become unofficial ambassadors of the brand. This co-creation of value is how small cafes that offer something special go from a local secret to Instagram famous destinations.
Ensuring Experiences People Want to Share
Customers are searching for meaningful and memorable experiences in which they can share with their friends, family, and Instagram followers. The developing experience economy is apparent as more of us come to expect and place value on an experience paired with the products they purchase. To create "shareable" experiences, cafes must learn to marry product, service, and atmosphere in a meaningful way. Cafes that fail to create these experiences are finding it more difficult to succeed in an age in which social media is imperative to the success of businesses.
Recently our Newish team had the pleasure of taking part in our own cafe rebranding, working with our client Pueblo Brisbane to create an all-new website for the business, and assisting in social media strategy. To see our work in action, head to the revamped website here: http://pueblobrisbane.com/, or for your own memorable cafe experience, pop by their Manfield location yourself for a cup of coffee!