When working on a team project, it can be hard to assign individual tasks and keep track of everybody's progress (especially when working from home during lockdowns!). In the office you would normally have meetings to update the group or simply send a quick email, but how do you keep track of the project as a whole? Answer – by using a project management tool.
So, what are they?
Project management tools are online applications that allow users to track workflows by combining multiple functions in the one workspace, including group chats, time tracking, reminders, social media schedules, project timelines, to-do lists, comments, emails and more. Essentially, project management tools provide a platform that helps you to visualise task lists, making it easier to understand the due dates, who is working on the task, and the current status of the project. They are the most efficient way to keep everyone on track and prove to have unlimited advantages for both individuals and larger organisations, and so we've gone ahead and listed for you just some of the many benefits of using a project management tool: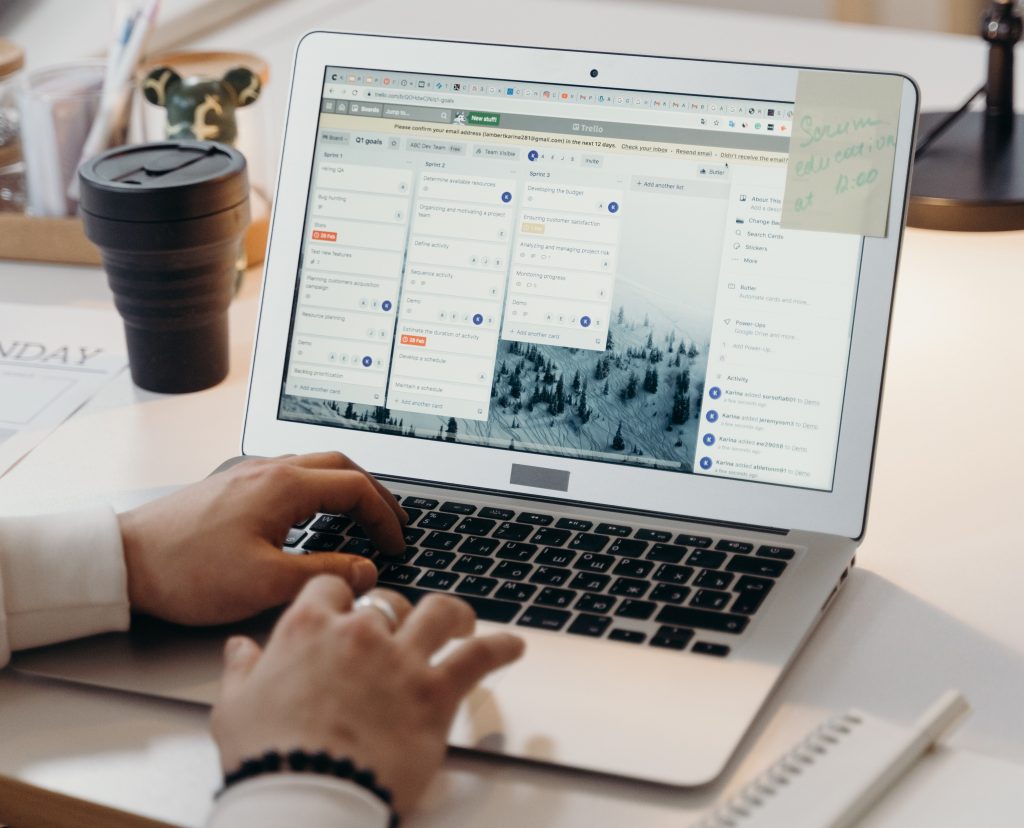 The Benefits:
Project Planning
Project management tools are any organisations best friend when it comes to project planning. These platforms make it possible to set a very accurate timeline, with functions that allow you to distribute tasks to employees and make a visual to-do list. It sets up a mutual understanding for both the client and the people working on the project in terms of deadlines and responsibilities, helping to streamline processes and document the history of the work that has been done, making the process clear for everyone involved.
Productivity
Online project management tools such as Monday, Wrike, and Trello take the hard work out of distributing tasks, making it easier for your company to efficiently allocate resources. This helps businesses to spread the workload and also increases productivity across the board. Individuals know exactly what they have to work on, when it's due, and who to contact, and can plan out their day accordingly with all the information they need to get the work done in a timely manner.
Accountability
Not only is this good for productivity – but it also increases accountability. By assigning your name specifically to each task, these tools set expectations. With real-time collaboration, everyone can see what you are working on and when, so that team members can see how you are going with tasks.  In addition, everything is digitally documented, so the management tool can act as evidence if a client ever questions if the work was completed or if those changes they asked for were made!
Collaboration
The online software allows users to work in real-time, meaning that anyone can be on the platform and interact at any time. This improves collaboration within a team, making it as easy as possible to update one another and leave feedback on works in progress. It also invites users to edit work at the same time, functioning in similar ways to how Google Docs allows real-time edits from multiple users. This collaborative capability of project management platforms is what makes them such a valuable tool in and outside of the office, taking teamwork online.
Internal Communication
This real-time collaboration also helps to improve internal communication among team members. You can stay up to date with everyone at all times, even when you are away from the office. This makes remote meetings and working from home a whole lot smoother, which is especially handy to have during these times. The platforms usually have great file sharing capabilities, too, making it just that much easier to work with others on a project.
Client Communication
Using a project management tool is just one of the many ways to increase internal communication on tasks, and in some cases, can even help keep clients in the loop, too! If your client signs up for an account on your project management tool, they will be able to see the work as it is done. You can comment their name on a task you need their approval for, and that will send the message directly to them. This means you will get instant feedback, making the project flow better with more client input.
---
At Newish, we use Notion to draft, organise, plan and edit content for our social media and blogs. Each team member signs up to use the program, where we can work on the same tasks either in the office or at home. The tool has changed the way we create content and get feedback on our work for the better and is our secret weapon to staying organised! We highly recommend signing your team up to one of the many project management tools out there. See below for our favourite programs to use for your next project!
Our Top Picks:
Notion
Trello
Monday
Asana
Wrike
With any one of these tools, your company can improve its processes, leading your team to success on every project, every time. If you need help implementing your next project or campaign, get in contact with the Newish team today!