Every student's bucket list should include undertaking an internship. Why? As a student, you gain invaluable industry experience and connections, which contribute to your learning and guide your future career. Our Newish team member Chelsea recently completed her first internship, and has shared her experience with us.
---
During the Winter Break, I accepted the opportunity for a 6-week internship with TwentyTwo Digital, a digital marketing start-up agency. The agency has a close-knit group of employees who had a lot of advice and lessons to offer, with skills ranging from search engine optimisation (SEO) and paid media to campaign management.
Going into my first internship I definitely felt nervous, because I was worried about how my university skills would transfer to the workplace. Though this feeling was daunting, I found that it could also be an exciting feeling, and focused on that instead! Rather than fearing I would struggle to pick up tasks, I found it useful to think about how beneficial and fun it is to learn new skills.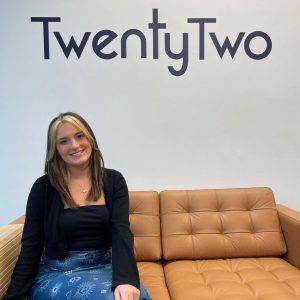 With the help of my mentors, I was able to feel more confident in my existing abilities and to take on useful advice. Existing skills I developed during the six weeks included copywriting for blogs and planning social media schedules for a range of clients across multiple industries, allowing me to better understand agency work. On top of this, I was introduced to new topics such as Search Engine Optimisation (SEO), paid advertising on social media, and even the management of clients and briefs.
Overall, the experience was incredibly insightful, beneficial, and full of great memories! If you're a student nearing the end of your degree, I highly recommend taking any internship opportunities to help develop your university skills, understand the industry you're interested in, and build your confidence within your abilities.