So, you've had a refreshing and fulfilling break: quality time has been spent with your loved ones, lots of food and drinks have been consumed and you've enjoyed a relaxing couple of weeks.
Work, study and all elements of your professional life have been but a distant memory…
And now, all of a sudden, it's time to get back into the swing of things!
Transitioning from a break to settling back into work or study can be difficult, and leave you feeling like you're still in holiday mode for the first few weeks of the year. To combat these back-to-work blues, here are our team's top tips for getting back into it after some time off.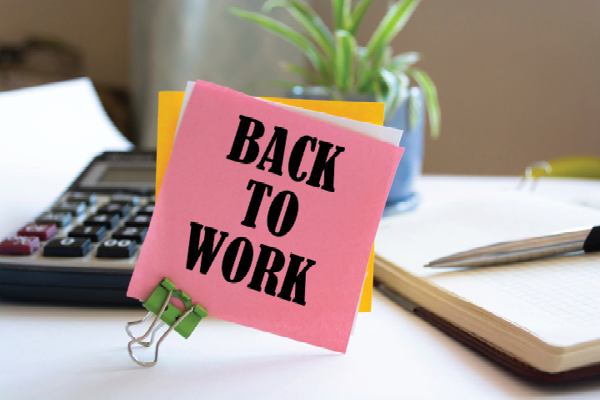 Ease yourself into it
While it can be seriously tempting to use every last second of your leave relaxing to the max, spending just a small amount of time easing yourself into work will keep the first day stress to a minimum.
This could be writing down some work lunch inspiration or planning ahead some university or office outfits. Or, cleaning up files on your desktop, and tidying up your physical workspace, too.
When you don't have to stress about the little things (what you're wearing, eating or where that file has gone), you'll have more time to dedicate to important work tasks, increasing your productivity and motivation.
Create your new routine – use what has worked in the past, and implement holiday favourites
Before heading back to work, take some time to think about your work life last year.
What were your favourite things about your routine? What would you like to do more of?
Take some time to think about your holidays, too.
Was there anything in the break that you found particularly joyous?
Perhaps spending quality time with your parents made you really happy, you had a meal that you especially enjoyed, or you loved swimming in the ocean everyday?
Use these answers to create your brand new routine!
Having a flexible routine in mind before getting started will no doubt take the pressure off heading back to work. And although the work year can get busy, doing things that make you happy should be a priority all-year-round.
By creating a routine using what has worked well for you in the past, and scheduling in small ways to bring your holidays to reality, not only will your time at work be more focused, but a better work-life balance can be implemented, leading to a healthier, happier you!
Go easy on yourself (and your co-workers)
Finally, it can be difficult to get back into things after time to relax. It's completely normal to want your holidays to last a little longer, and to feel a little out of whack for a while.
Be flexible: It's okay if you don't follow your routine perfectly. The first few weeks is all about amending where you see fit.
Be kind to yourself (and others): Getting back into work will inevitably lead to some mess-ups and mistakes. Remind yourself, and your co-workers, that you're all a little rusty from the holidays and doing the best you can.
Don't forget the basics: A quality sleep schedule, movement everyday and adequate hydration are the most underrated productivity tools. If you nail the basics, you'll excel elsewhere!
So when you're feeling those back-to-work blues creeping up, don't forget to ease yourself into a routine that you love and be kind to yourself while doing so.
Happy New Year from all of us at Newish!