To come clean, I hadn't heard of Newish at all and little did I know of the adventure I was about to embark on. It wasn't until one of my friends sent me a post on Instagram of the agency looking for new hires and encouraged me to apply. At this point, it was just the beginning of Semester 2 of my first year at UQ and I was keen to get more involved with Uni life and to get a head start in my career path.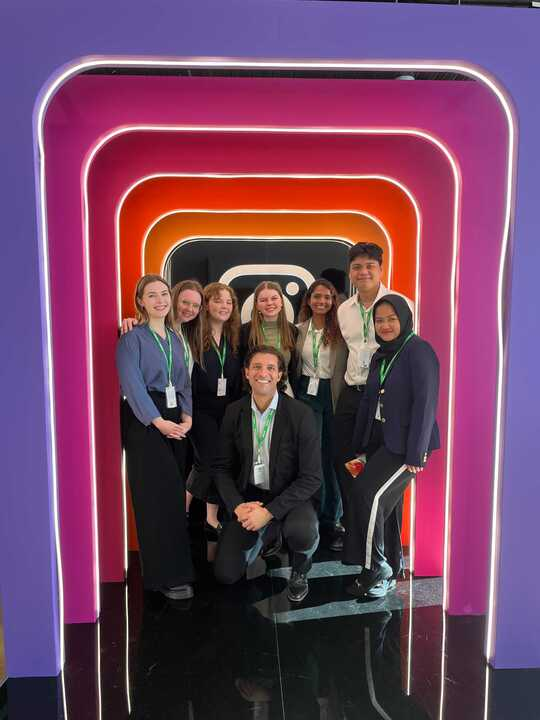 I remember scrolling through Newish's Instagram and website – reading testimonials of past members and being surprised when I found out Newish was all run by students from an array of disciplines. Honestly, I was reluctant to join. I thought I didn't have enough of a skillset or enough confidence in my work that I would even be considered. But after much deliberation (and swaying from my friends), I put together a resume and portfolio and submitted it in – I mean, it didn't hurt to try.
Well, you can guess where the story goes from here. I got an interview! And subsequently, a position in the Creative Team too! I was super stoked but super nervous. I was met with warm welcomes from my team and from other members too – I already knew this was going to be the beginning of something big.
The first few weeks was really trying to learn the ropes and break the ice with my team. I wasn't assigned to any clients at this stage, but my Director introduced us to the IAA Big Idea Competition – an annual competition Newish participates in – and asked if anyone would want to join. I thought – why not? I mean, this was my chance to get more involved and get familiar with the team, so I put my name down. This was a major highlight for me being a Newbie and where my time at Newish really started to pick up. After working late days and possibly too much caffeine consumed, we submitted our ideas to IAA and began the waiting game. It was around this time I was assigned to work on a client as well, which was very exciting – from seeing the client's brief go through the ideation phase, to creating deliverables to meet their goals. I witnessed the quality of work put in and the synergy of how all the members from different teams worked together.
Finally, we heard back from IAA and found out we were going to nationals and had to present at the META Offices in Sydney! We didn't have time to waste, we prepared a presentation and with some help from UQ, we flew down to Sydney for a day, representing Newish and UQ! But of course, it goes without saying, we had to do some mandatory tourist activities with the time we had spare! When it came down to presenting, we did the best we possibly could and although we didn't place, we were still finalists and I was proud of the hard work we put in.
To sum up my experience, I'm so keen to see where Newish can take me, I'm already seeing myself be more confident about putting my ideas and work out there. To think that in the first four months of working at Newish, I'm already gaining industry experience, building my portfolio with Newish and competing in competitions that I had the privilege of going to Sydney for is hard to grasp. Now being at Newish for seven months, I definitely would recommend for anyone, in any degree or faculty to join. You learn a lot in a short amount of time and being surrounded by like-minded, driven, hard-working individuals really makes you want to keep coming back each Tuesday!